Recent Events
The Vignan's Foundation for Science Technology and Research Entrepreneurship Cell event "E-gnition2021" on 8th Jan 2021 was another successful one! E-gnition is the kickstart event of entrepreneurship cell to spread awareness of entrepreneurship spirit among the freshers and gives a platform to showcase entrepreneurial skills with in them.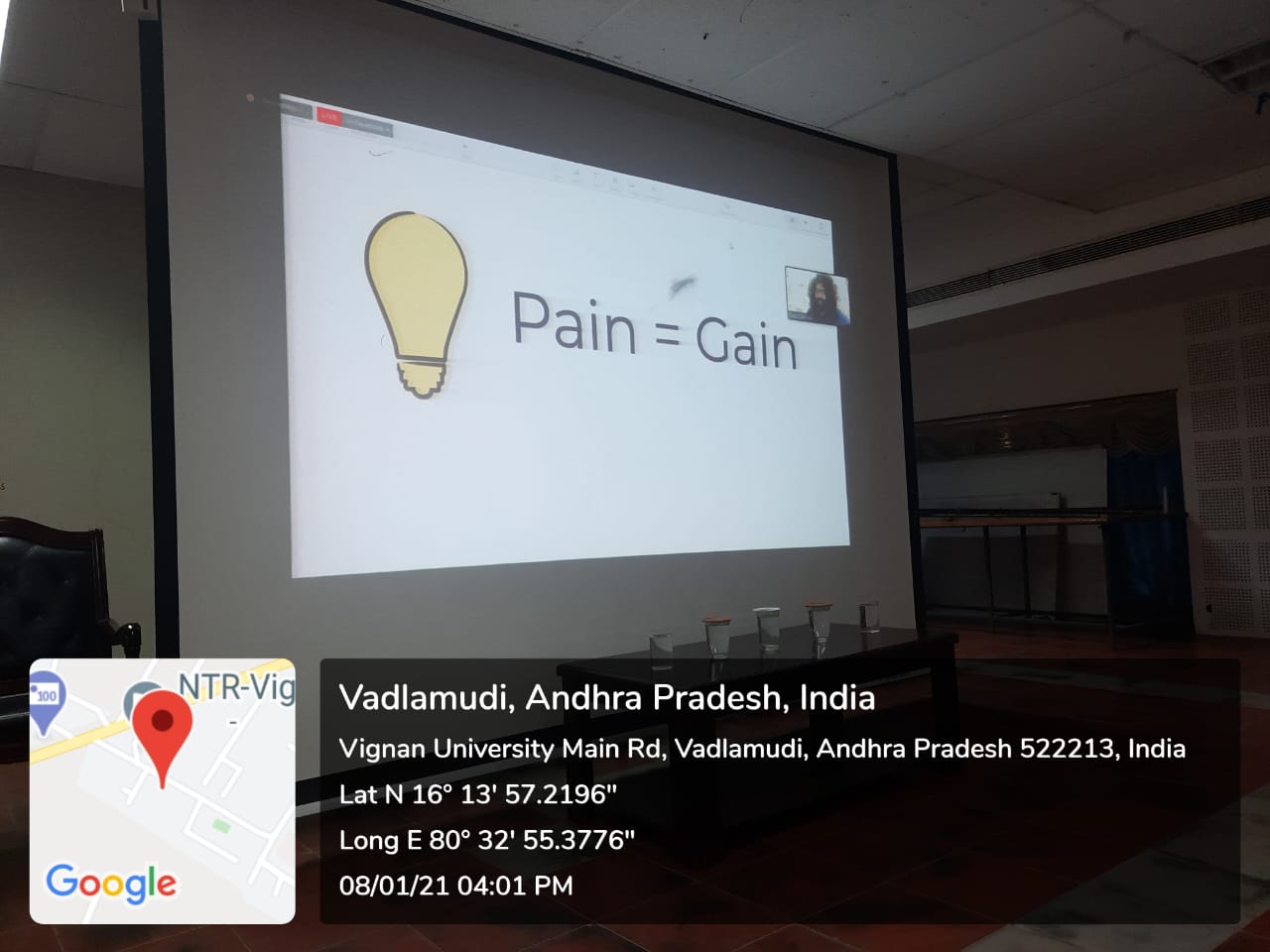 Cheers to a new year and another chance for everyone to get it right.Binges in VFSTR started with delighted faces everywhere by inviting internal dignitaries on to the arena. Dr. M.Y.S.Prasad, Vice-Chancellor, said that the new year should give rise to joy in everyone's vitality. Mr. K.VivekAhimamsh from 4th IT, Mr. P.Vamsi Krishna from 4th-CSE and Mr. Rushikesava from 1st IT have given the student reflections. Dr. LavuRathaiah, chairman congratulated all students for successfully withstanding the pandemic period and prompted them that this pandemic hasn't impacted VIGNAN even 10%.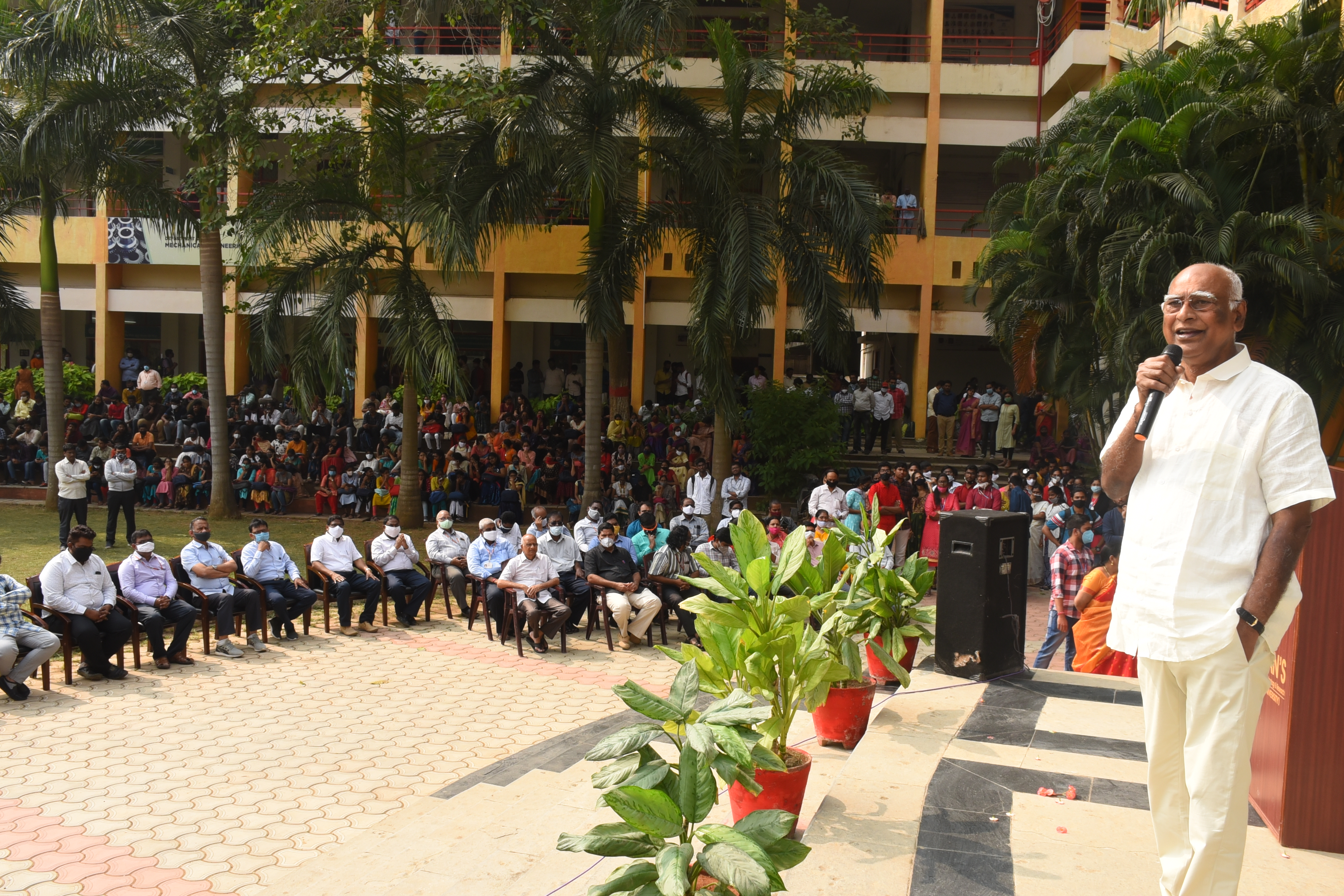 Admissions Toll free number : 1800-425-2529
Vignan's Foundation For Science, Technology and Research (VFSTR) has made it, as its mission to prepare globally acceptable readily deployable, industry ready skilled professional and navigate towards the socio-economic transformation of the region. It provides quality education in a diverse and intellectually stimulating environment. It imparts value addition training to students to make them competent and inspired engineers. The institute celebrate the power of knowledge, cultivates vision and build awareness about the self and society around.
The institution is known for its honest practices and ethical value systems since its inception. It adopts transparent and systematic procedures of admission. All the admissions are made purely on merit.
UG Programmes
B.Tech. Programmes
A comprehensive plan, meticulously executed with periodical assessments backed by continuous counselling and feedback is enabling Vignan students to turn out into highly competitive and skilled professionals. VFSTR is proud to see them turning out into psychologically strong, emotionally balanced professionals imbued with social consciousness and ethical values. Our graduates will benefit from an education that nurtures fundamental capabilities along with deep disciplinary knowledge.
Good academic environment and special schemes in the form of academic scholarships are also in place to attract meritorious students. To encourage meritorious students scholarship worth Rs.400 lakhs is awarded to each admitted batch.
Other UG Programmes
PG Programmes
The M.Tech programme places strong emphasis on both course work and research dissertation/thesis. The thesis is compulsory for the award of an M.Tech degree. It is expected that the thesis will result in high quality scholarly publications and national and international conference presentations. The M.Tech. Curriculum at VFSTR has been designed to be highly creative with a focus on interdisciplinary skills and high quality thesis work. Scholarships are offered every year for meritorious students.
M. Tech. - ECE M. Tech. - CSE M. Tech. - EEE M. Tech. - Civil Engg. Professional PG Programmes
M. Tech. - Chemical Engg. M. Tech. - Mechanical M. Tech. - Biotechnology M. Tech. - Applied Engg.
Ph.D. Programme
A sound scientific temperament and quest for continous innovation drives both faculty and students to keep pursuing research activities at the institute. This infuses an investigative spirit even among the students and motivates them to take up various challenging research projects. Click here for details
Exam Cell
The Institution strongly believes that a credible evaluation system determines the quality of teaching learning, attendance and discipline and general behavior of the students. Led by this conviction, the evaluation procedures are laid down.

Continuous evaluation system is followed. The procedure of evaluation is made transparent to the faculty and students with the provision of recounting and revaluation. The system is working very efficiently, and it is worth mentioning that the number of cases for revaluation is less than one percent.
Library
A well designed library conducive to learning with an area of around 5902 sqmt. with 1,01,651 volumes and 29,658 titles, 10,605 reference books, 2,742 e-books, 261 regular journals, 6,748 e-journals. An exclusive digital section, comprising 60 systems and knowledge resources. Click here for Library Home
NTR Vignan Library Timings
NTR Memorial Library is kept open on 350 days in a year with the following timings:
Working Days : 7.30 AM - 10.00 PM
Issue Timings : 8.00 AM - 6.00 PM
Holidays : 10.00 AM - 5.00 PM
Changes in Timings during the vacation period will be informed on the Library Notice Board and through circular.
Dean - Library & Information Sciences
Dr. K. V. Krishna Kishore
B.E., M. Tech., Ph.D.
Mail Id: dean_its@vignan.ac.in / kishorekvk_1@yahoo.com

Librarian
Smt. A. Rajani Kumari
M.A., M.L.I.Sc., PGDLAN, M.Phil., (Ph.D)
Mail Id: librarian@vignan.ac.in (or) rajanivu96@gmail.com
Phone: 0863 - 2344737
Research
A sound scientific temperament and quest for continous innovation drives both faculty and students to keep pursuing research activities at the institute.This infuses an investigative spirit even among under-graduate students and motivates them to take up various challenging projects.To conduct and to promote research activities, VFSTR has a Directorate of Research and Development headed by a Director who is assisted by two Assistant Directors. While one Assistant Director looks after the Ph.D. programmes and the projects funded by the external funding agencies like DST, UGC, CSIR, AICTE, ISRO etc.