It is an established fact that human behavior is influenced by the surrounding. The serene atmosphere of a temple has an elevating effect on all of us. Guided by this fact, meticulous care has been taken in the design of the VFSTR campus. The beautifully landscaped campus has green tree lined avenues, lush green lawns, spacious classrooms, open corridors and large playgrounds. All this created a pleasant and stress free atmosphere for student to learn and develop. It is spread over 42.86 acres of land.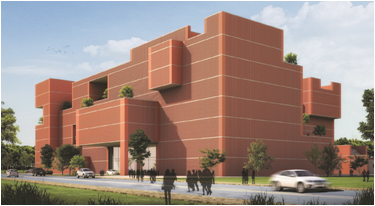 Ideal infrastructure at VFSTR
On date VFSTR's surplus infrastructure features serene and eco-friendly ambience, ventilation to allow Good with plenty of natural breeze for all classrooms and laboratories, ergonomically designed furniture for comfort to sit for long hours, large circulation area to facilitate informal discussions among students and faculty, state of art Administrative Block and facilities like solar powered cars for easy mobility on the campus for differently abled students, wheel chairs, specially designed furniture, ramps and lifts.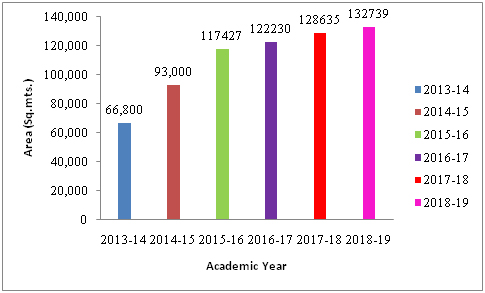 Latest Improvements
All class rooms are ICT enabled while 20% of class rooms are upgraded into smart class rooms and air conditioned along with seminar halls. The other improvements include Wi-Fi enabled campus and upgraded libraries with state of art facilities.
Built - up area of the Institute
S.No.
Category
Area Available (Sq. m)
1
Instructional Area
39,005
2
Administration Area
7,793
3
Amenities Area
24,674
3
Circulation Area
17,280
Area
88,752
Other Areas
| Category | Area (Sq.mt) |
| --- | --- |
| Men's Hostel | 20,200 |
| Women's Hostel | 14,950 |
| Amphi Theaters | 2,750 |
| Staff Quarters | 2,340 |
| Guest House | 3,372 |
| Health Centre | 200 |
| Gym | 175 |
| Area | 43,987 |
Progress Chart
| Year wise | 2013-14 | 2014-15 | 2015-16 | 2016-17 | 2017-18 | 2018-19 |
| --- | --- | --- | --- | --- | --- | --- |
| Instructional area | 24,500 | 28,500 | 32,607 | 34,353 | 36,100 | 39,005 |
| Administrative area | 1800 | 2500 | 7,528 | 7,628 | 8,328 | 7,793 |
| Amenities area | 15000 | 18500 | 21,886 | 23,280 | 24,674 | 24,674 |
| Circulation area | 6000 | 11500 | 14,153 | 15,716 | 17,280 | 17,280 |
| Others | 19500 | 32000 | 41,253 | 41,253 | 42,253 | 43,987 |
| Total | 66,800 | 93,000 | 1,17,427 | 1,22,230 | 1,28,635 | 1,32,739 |