Home

UEAC Team

Events

Login

Volunteers
UEAC - University Extension Activity Center
---
The UEAC Unit of VFSTR was established in the year 2009, (continued erstwhile Vignan's Engineering College NSS unit under new name) to motivate students towards community oriented service.
These activities are aimed at instilling social consciousness and responsibility among budding engineers.
These activities also enable the VFSTR to forge strong links with community and help in its development through various extension activities.
It also encourages the involvement of the community in the college growth and development.
A Significant Achievement
The UEAC unit has received a Silver Medal through Indian Red Cross Society announced by Honorable Governor of Andhra Pradesh in the year 2016.
It's not a single day effort, it is the continuous process from the last 6 years by organizing various Blood donation camps, Tree plantations, Special camps, old age home visits, orphan home visits, raise the fund to Armed forces &flood effected people in the villages of Pedalanka & Pesarlanka, AIDS day, Voters day, Water day, Rallies, Camps in the adopted schools like Eye checkup, Dental Checkup, Health Checkup, Academic classes and providing Infrastructure support & Hygienic food for X class students at the time of their examinations.
Program Officer - UEAC
---
| | | |
| --- | --- | --- |
| Dr. K.V. Krishna Kishore | | UEAC is a highly active body, which conducts many student-centered activities, platform for students to understand societal and social problems and it is complementary to classroom education. It is a noble experiment in academic extension. It inculcates the spirit of voluntary work among students and teachers through sustained community interaction. It brings our academic institutions closer to the society. It is a link between the campus and community, the college and village, knowledge and action. The overall aim of UEAC is the Personality Development of students through community service. It gives an extension dimension to Higher Education system and orients the student youth to community service. |
Department Wise Faculty Coordinators
---
| Department | Name of the Coordinator | Mobile No. |
| --- | --- | --- |
| Applied Engg. | Mr. Aditya | 9553155046 |
| CSE | Mr. Simhadri China Gopi | 9700330708 |
| IT | Mr. V. Nagireddy | 7569043422 |
| ECE | Mr. Md. Taj | 9494418786 |
| EEE | Mr. P.M. Venkatesh | 9944910808 |
| BIOTECH | Dr. Charless David | 9182704230 |
| CHEMICAL | Ms. Roshini Deepika | 9962545679 |
| MECHANICAL | Mr. B.J.M. Rao | 9010268084 |
| CIVIL | Mr. R. Venkata Ramana | 9700281470 |
| S&H | Dr.P. Vijaya Babu | 9490092896 |
| MBA | Dr. K. Shiva Nageswara rao | 9949373629 |
| UEAC | Mr. D.Suresh Babu | 7893536215 |
Department Wise Student Volunteers
---
2020-21 UEAC Events
Blood Donation Camp - Give Blood Give Life
A Blood Donation Camp was organized by UEAC (University Extension Activity council) Unit of VFSTR on the occasion of Republic Day on 26th January 2021. UEAC Unit of VFSTR conduct blood donation camp in the campus on 23/01/2021 it was held in three venues (NTR library video conference hall, 1st floor, U block ground floor and civil lab in Pharmacy block). A team of 20 doctors and 30 lab technicians of New City Blood Bank Vijayawada came for collection of blood.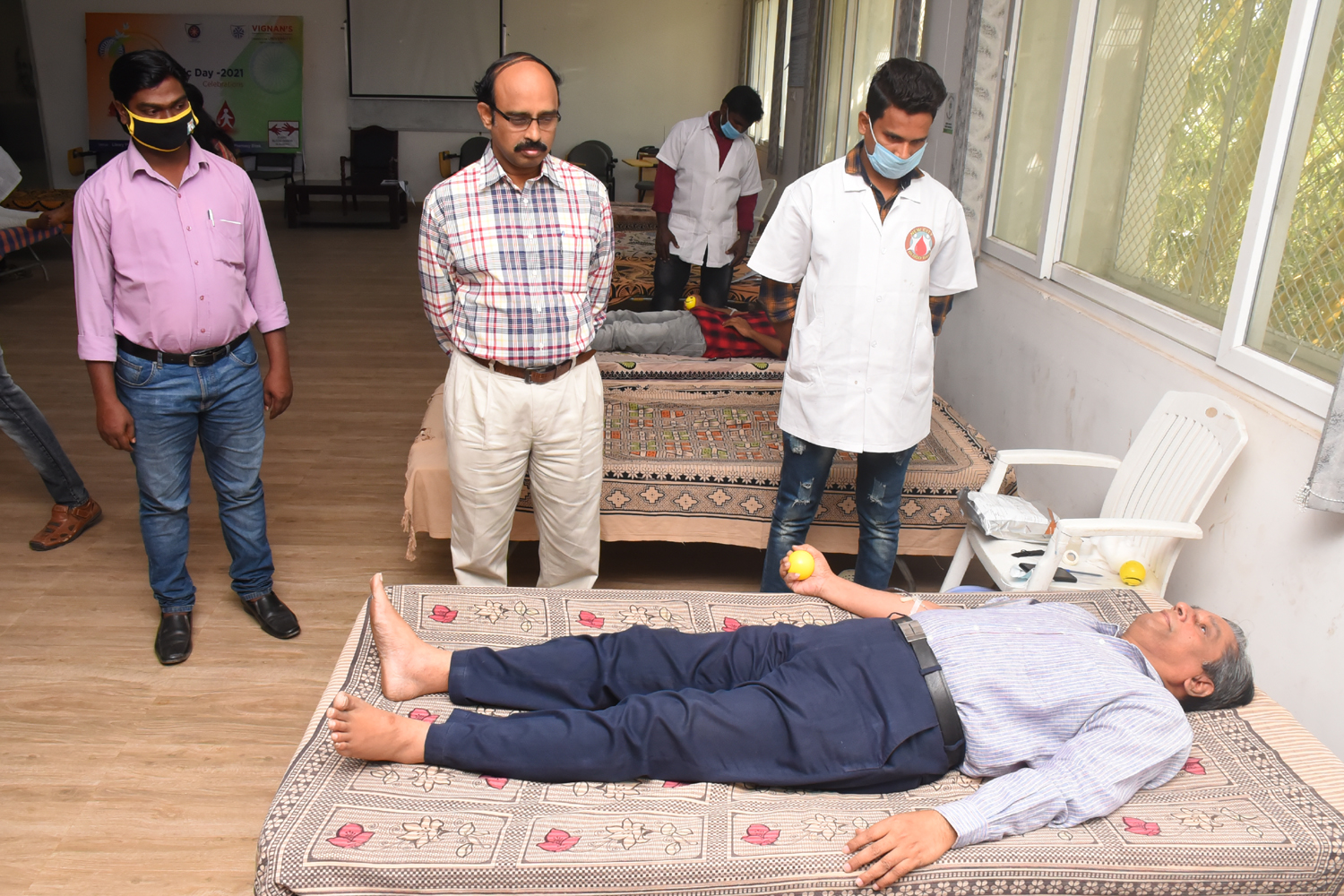 The event started from 10.00 AM. Dr. K. V. Krishna Kishore UEAC Programme officer enlightened the students with his words and every donor is saving the lives of the injured and the sick. As part of the camp 224 students from the all departments and 10 faculty members have donated the blood. The New City Blood Bank awarded the student with certificates of appreciation for their voluntary work.
---
Swatch Bharat Program at Vejendla Village. - A commitment to social Responsibility
Led by our University Extension Activity Council (UEAC) unit, our students took part in Swatch Bharat Programme, the Prime Minister of India, Mr.NarendraModi, launched the Swatch Bharat Mission. In this regard, the university had organized a mega Cleanliness Drive at Vegendla village on 02/01/2021 between 2.00 - 4:00 PM. As per the schedule, The main purpose of the program is to create awareness among the students regarding cleanliness and its benefitsstudent-volunteers from S&H (first year) Department took Swatch Bharat pledge and participated in maintaining the clean surroundings in Vegendla village. , the school H M and staff had participated.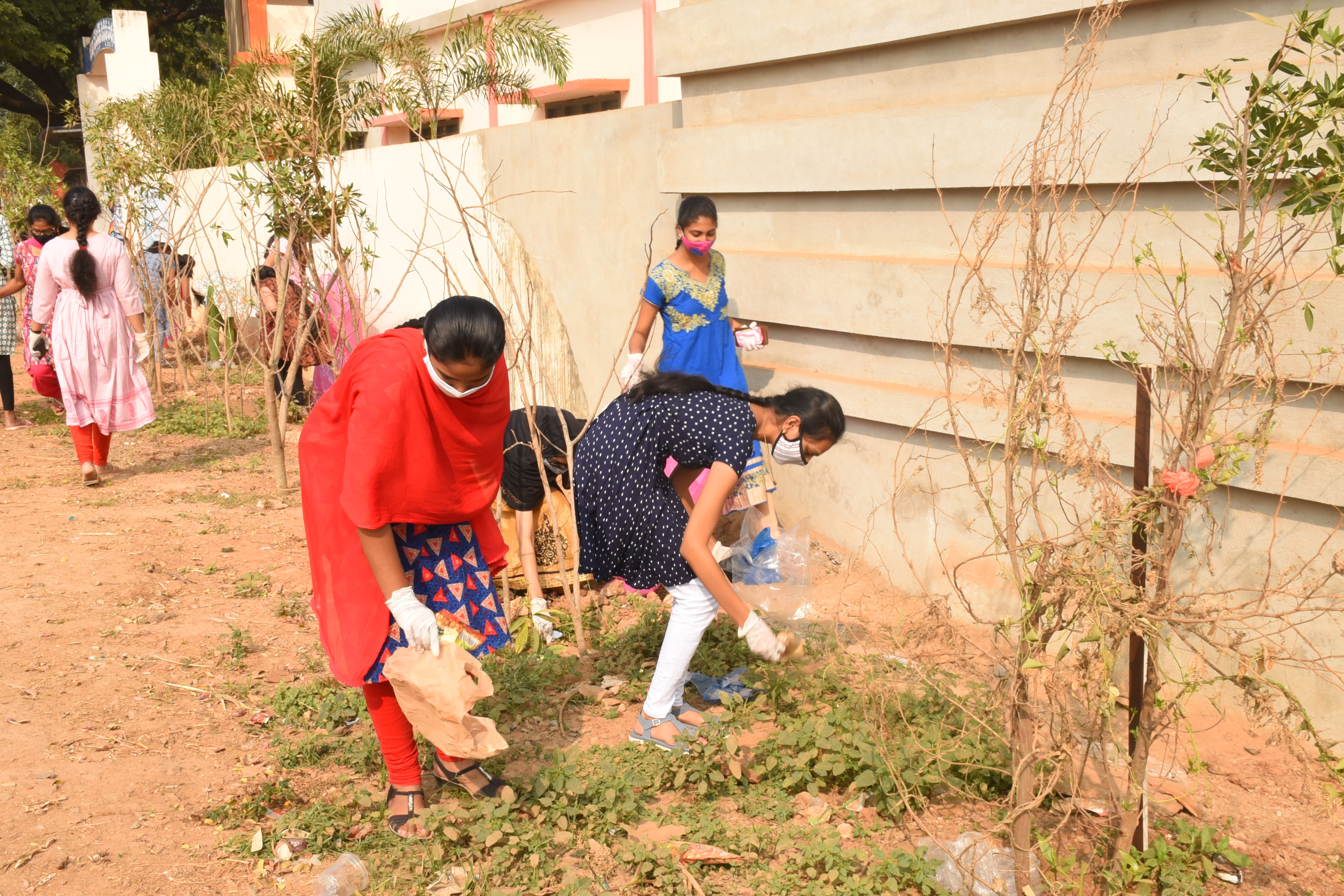 The UEAC coordinators were played an essential role in the program. Each & Every individual participated in this program and volunteered their services in clearing the village roads, School ground, surrounding of the school and Ganesh temple. They cleared the wild growth of plants and removed garbage. On this occasion, UEAC Program Officer Dr. K.V. Krishna Kishor, UEAC Faculty coordinator, Dr.VijayaBabuPalukuri, and UEAC Coordinator Mr. D. Suresh Babu motivated the students and created awareness on the importance of clean environment asking them to organise these kind of events not only in the college, but advised them to undertake the similar programmes in the surrounding villages also. 'Swachh Bharat programme facilitates a clean India, the vision of our father of India, Mahatma Gandhi,' students were told. All students participated with activity to the core and were well connected to the people there and to the programme
---
ARCHIVES
Department Wise Student Volunteers
---

Right place for creative minds...
Welcome to a place with 45-year legacy of Academic Excellence. As you explore, you begin to find yourself in a well diversed and intellectually intriguing atmosphere