The IQAC has been integrated as one of the parts of VSFTR aimed to establish definite processes to ensure quality in various important activities of the institution.
The IQAC composition has been made in considering the facts of Accreditation counsels and committee. The composition of IQAC is
Dr. P. Nagabhushan - Vice Chancellor (Chair Person)
Adviser
Dr. M. Subrahmanyam - Former VC, GITAM University, Former Registrar, Andhra University
Core Team Members
Dr. K. Balamurugan - Assoc. Dean, IQAC
Dr. Srinivasadesikan. V - Assoc. Dean, IQAC
Dr. U. Janardhan Reddy - Assoc. Dean, IQAC
Dr. Yarlagaddaa Jyothi - Assoc. Dean, IQAC
Ms. Prathiba Jonnala - Assoc. Dean, IQAC
Mr. Govindarajulu Eedara - Assoc. Dean, IQAC
Mr. Y. Ramamohan - Member, IQAC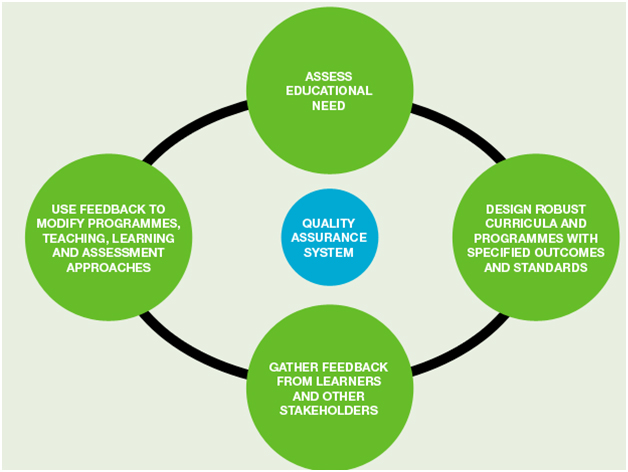 Administrative Representatives
Dr. M. S. Raghunathan - Registrar
Management Representatives
Dr. S. Krupanidhi - Professor in Biotechnology & Dean Planning and Monitoring
Employers / Industrialists
Mr. Y. Kiran Babu, CEO, Egnify Technologies, Hyderabad
IQAC Members from the Departments:
Dr. B. Harish Babu - Applied Engineering
Dr. Ch. Anjani Devi - Biotechnology
Dr. Satyajith Mukherjee - Chemical Engineering
Dr. A. Shivasankar - Civil Engineering
Ms. B. Suvarna - Computer Science Engineering
Mr. M K C Rao - Electronics & Communication Engineering
Dr. Y. Srinivasa Rao - Electrical & Electronics Engineering
Dr. G. Suresh Babu - Mechanical Engineering
Dr. K. Sujatha - Information Technology
Dr. J N Kiran - Science & Humanities
Dr. Sarita Satpathy - Management Studies
Mr. G. Suresh - Pharmacy
Other External Experts
Dr. Meera Saheb, Professor & Head, Mechanical Engineering Department, University College of Engineering, JNTUK.
Stake Holder and Community Representative
Mr.T. Srinivasa Rao, Parent.
Alumni
Dr. P. Vijetha, Assistant Professor in Chemical Engineering
Office Staff
Ms. R. Amani, Jr. Assistant
Mr. N. Praveen Kumar, Jr. Assistant
Mr. B. Ashok Kumar, Office Assistant