S.No

Name of the Topic

Conducted Date

No. of Participants

1

Quality Improvement Program on Concepts in Neurobiology of Learning

Schecduled 19.03.2020 to
21.03.2020

-

2

Workshop on in vitro Pharmacological Screening Methods

14.07.2019 to
17.07.2019

26

3

Faculty Development Program on Advanced Pharmacological Methods & Techniques

14.12.2018 to
15.12.2018

18

4

Faculty Orientation Program on Essentials for Insights on Inspiration Teaching for Novice Undergraduate and Graduate Faculty In Pharmacy

04.06.2018 to
09.06.2018

43
A 4-Day Value added program on "INTRODUCTION TO GOOD LABORATORY PRACTICES" was organized by the Department of Pharmaceutical Sciences from the 16th - 19th Aug'2019. The first day of the program started with an Inaugural function in which the faculty, students of the Dept of pharmaceutical Sciences had participated. The resource person for the program Dr. V. Sai Kishore, Expert Faculty in Regulatory Affairs, was introduced by Head of the Department which is followed by elaboration about the importance of GLP in Pharmaceutical industry by Dr Rajesh Kumar, Faculty of the Department.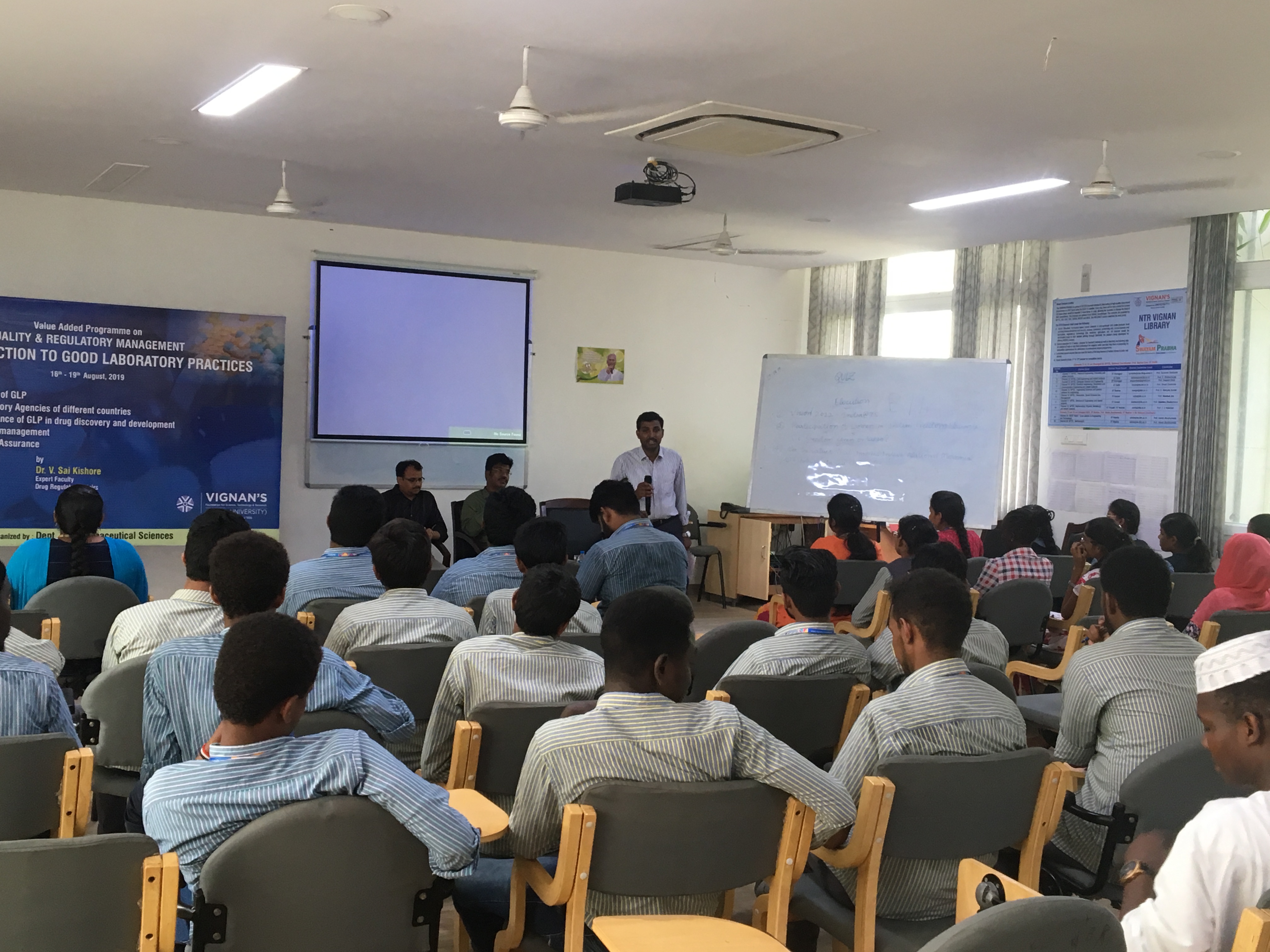 The world Pharmacists day, that is being observed internationally on 25th september of every year is celebrated in the VFSTR in grandly by the Dept of Pharmaceutical Sciences. Dr G satish babu, a former clinical Pharmacist in philadelphia, USA and presently the Dean of Pharm. D program of Vignan Pharmacy college is the invited guest of the program, he had shared his experiences and challenges in his career as a clinical pharmacist and advised the students about the necessary steps to be taken to achieve laurels in their career.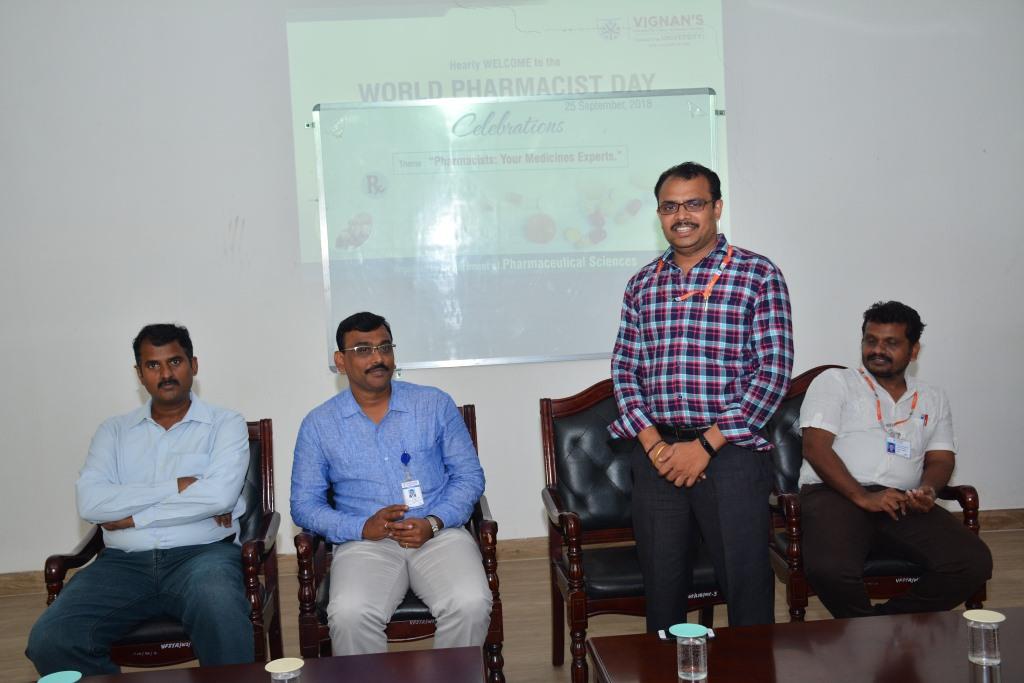 Inaugural function of B. Pharmacy program in the university campus
The inaugural function of the B. Pharmacy program has been conducted in the srujana seminar hall on 1st august 2018, vice chancellor Dr M.Y.S. Prasad garu, Registrar Dr M.S. Raghunathan garu has graced the occasion. Prinicpal of Vignan Pharmacy College, Dr. P. Srinivasa Babu and HoDs, Deans of various departments have participated in the event. The vice chancellor has highlighted the importance of role of pharmacists in the present and the future and also insisted the overseas students about the rules of the university.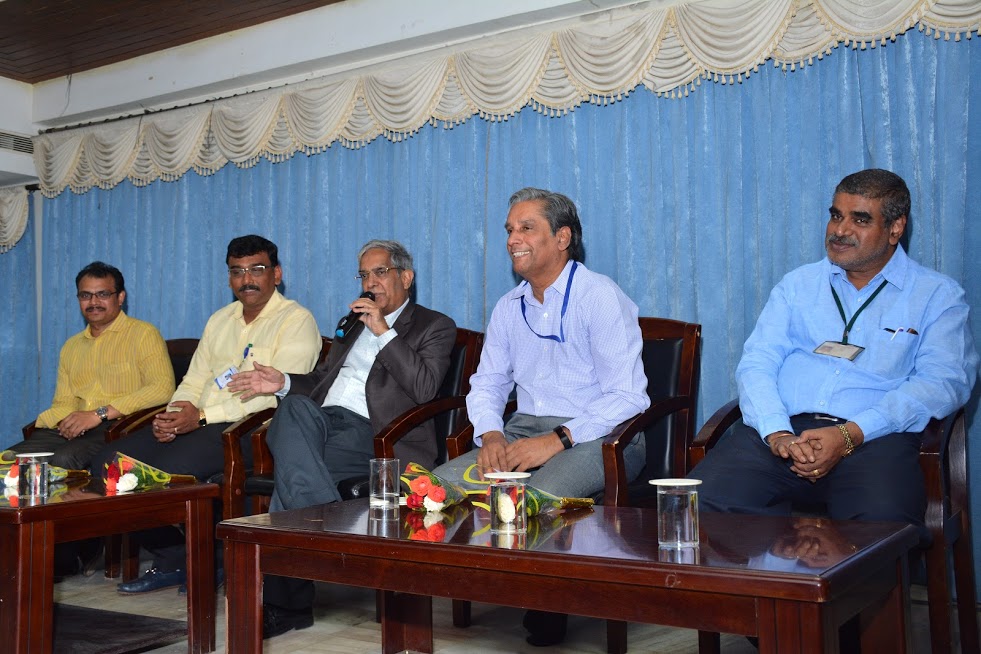 Registrar has wished all the students for being a part of vignan family and choosing the right institution to pursue the career in pharmacy. The principal of vignan Pharmacy College has generously extended his unconditional support for the B.Pharmacy program and other speakers are Dr N.Srinvasu and Mr V Ravi kumar. Dr Jithendra Chimakurthy had introduced the faculty to the students and thanked all the parents, he has explained the curriculum and systems of the university.